Cosmetic Services
Get the smile you deserve!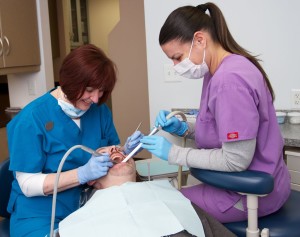 Dr. Olesky provides the best cosmetic dentistry services, from Dental Implants to Teeth Whitening.  Look and Feel the best you can with Cosmetic Dentistry.
Some of our general dentistry services include
---
Tooth-colored, or composite, fillings are the mercury-free alternative to amalgam or traditional silver fillings. Most patients prefer "white" fillings because they want their teeth to look natural when they laugh, talk, and smile. The procedure takes a little longer than for other types of fillings, as the tooth must be kept totally isolated from saliva in order to be placed properly. The composite filling is then hardened, or cured, with a special light. The tooth is then restored to a more natural and esthetically pleasing appearance with the complete filling.
Whitening
If your teeth look yellow, brown, or stained, you want to boost your confidence, or just have an important event coming up, whitening may be your answer.
Zoom Whitening
Safe and effective, this in-office whitening system uses a special light-activated gel to quickly whiten teeth. The process takes a little over an hour in the chair, and you leave the office with a bright and beautiful smile.
Take-Home Whitening
Custom trays will be created to hold a whitening gel against your teeth. Wear this gel-filled tray for 1-2 hours in the evening. You will see a gradual brightening of your teeth over approximately 2 weeks.
Porcelain Veneers
Porcelain veneers can transform your smile by changing the size, color, shape or by closing the spaces on your front teeth. Porcelain veneers are thin layers of porcelain which are bonded on the front of your teeth to achieve your smile goals.
After a thorough examination, and consultation to determine your needs and expectations, we can discuss how porcelain veneers can enhance your smile.
Crowns
Crowns, also known as caps, can restore strength, structure and function to a tooth with excessive decay or damage. Crowns will protect your tooth from further damage. We utilize several types of crowns.  We use all-porcelain crowns, porcelain fused to metal crowns or precious metal crowns, depending on the individuals needs.
All porcelain crowns are durable and long lasting. After selecting the appropriate  shade of porcelain to blend with your natural teeth, you will be able to maintain an esthetically pleasing smile.
You will care for your crowns as you do for your natural teeth. Brushing at least 2 times per day and daily flossing will protect your crowns from any bacterial growth which could cause damage to your crowns.
Dental Implants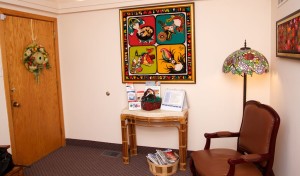 Dental implants are anchors into the jaw which can secure your dentures in place. 
They can also hold an individual crown for a single missing tooth. An implant functions like the root of your missing tooth or teeth. They are made of titanium and are surgically implanted in the jaw bone. Whether you're missing one, several, or all of your teeth, dental implants can change your life.
Be sure to to see us 2 times per year for professional cleaning and preventative exams.